MEGA Campus
In order to meet market demand and to better serve our customers, we are extending our connectivity advantage from MEGA-i, the most network-dense carrier hotel in the region, to other carrier neutral iAdvantage facilities, forming a "MEGA Campus". All facilities within MEGA Campus form a "Virtual Data Centre in Hong Kong" connected by high-performance dedicated fibers with full diversity, through iAdvantage's MEGA Connect service. As a member of MEGA Campus, MEGA Two, a data centre in Shatin, is providing the much-needed capacity for our customers, be them cloud services providers or enterprises looking for hybrid cloud solutions, production or secondary sites.
We have further extended MEGA Campus to include MEGA Plus, a greenfield data centre in Tseung Kwan O, Hong Kong. This purpose-built data centre provides extra 474,000 gross square feet GFA on the first piece of land granted for high-tier data centre development by the Hong Kong SAR Government. Without any subleasing constraints and located away from hazardous plants or waterfront, MEGA Plus offers the best choice for long-term data centre investment with high degree of flexibility, scalability and reliability, in the proximity of the Hong Kong Exchange and Clearing Limited (HKEX) and subsea landing stations.
MEGA Campus provides customers who would like to join a mature interconnected data centre ecosystem with a wide array of choices. The three MEGA facilities are strategically located to meet different business preferences. With offers spanning from colocation racks, cages, and suites to data halls of various sizes, iAdvantage can cater for various power density, capacity and connectivity requirements of the most demanding customers.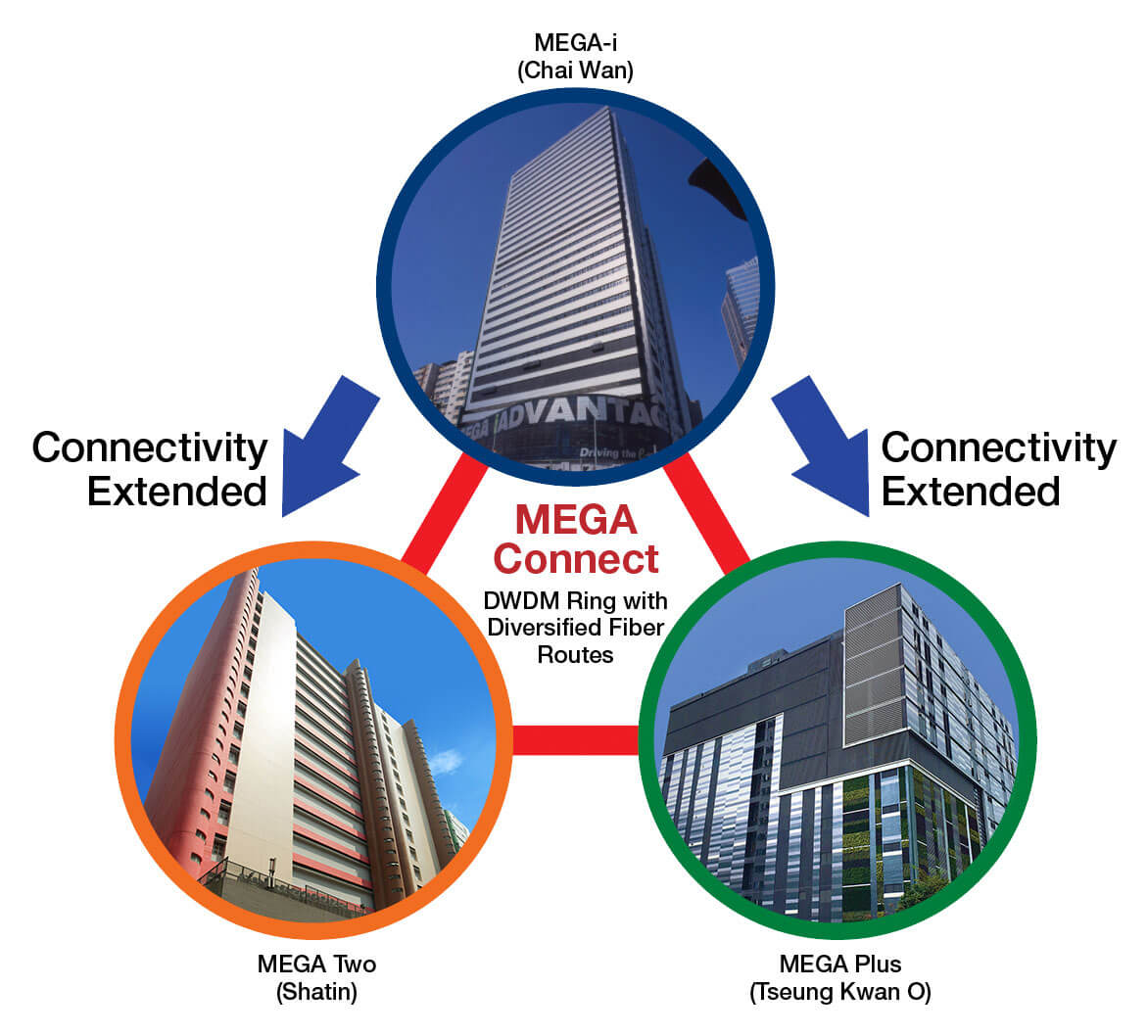 Best Connectivity
Submarine Cable POPs
Presence of All Major International and Local Carriers
Network Nodes of Carriers, ICP, ISP, CSP, and the like
Active Peering Community
Multi-cloud Connection
AWS Direct Connect
HKIX Connection
Internet and Intersite Connectivity
iAIX
Most Capacity
Constant Supply of New Capacity up to Year 2020
Cost-effective Solution for Server Farms (CDN, Compute/Storage nodes)
High Power Density
Favorable PUE