MEGA Campus
In order to meet market demand and to better serve our customers, we are extending our connectivity advantage from MEGA-i, the most network-dense carrier hotel in the region, to other carrier neutral iAdvantage facilities, forming a "MEGA Campus". All facilities within MEGA Campus form a "Virtual Data Center in Hong Kong" connected by high-performance dedicated fibers with full diversity, through iAdvantage's MEGA Connect service. As a member of MEGA Campus, MEGA Two, a data center in Shatin, is providing the much-needed capacity for our customers, be them cloud services providers or enterprises looking for hybrid cloud solutions, production or secondary sites.
We have further extended MEGA Campus to include MEGA Plus, a greenfield data center in Tseung Kwan O, Hong Kong. This purpose-built data center provides extra 474,000 gross square feet of data center space on the first piece of land granted for high-tier data center development by the Hong Kong SAR Government. Without any subleasing constraints and located away from hazardous plants or waterfront, MEGA Plus offers the best choice for long-term data center investment with high degree of flexibility, scalability and reliability, in the proximity of the Hong Kong Exchange and Clearing Limited (HKEX) and subsea landing stations.
MEGA Campus provides customers who would like to join a mature interconnected data center ecosystem with a wide array of choices. The three MEGA facilities are strategically located to meet different disaster/recovery requirements and business preferences. With offers spanning from colocation racks, cages, and suites to data halls of various sizes, iAdvantage can cater for various power density, capacity and connectivity requirements of the most demanding customers.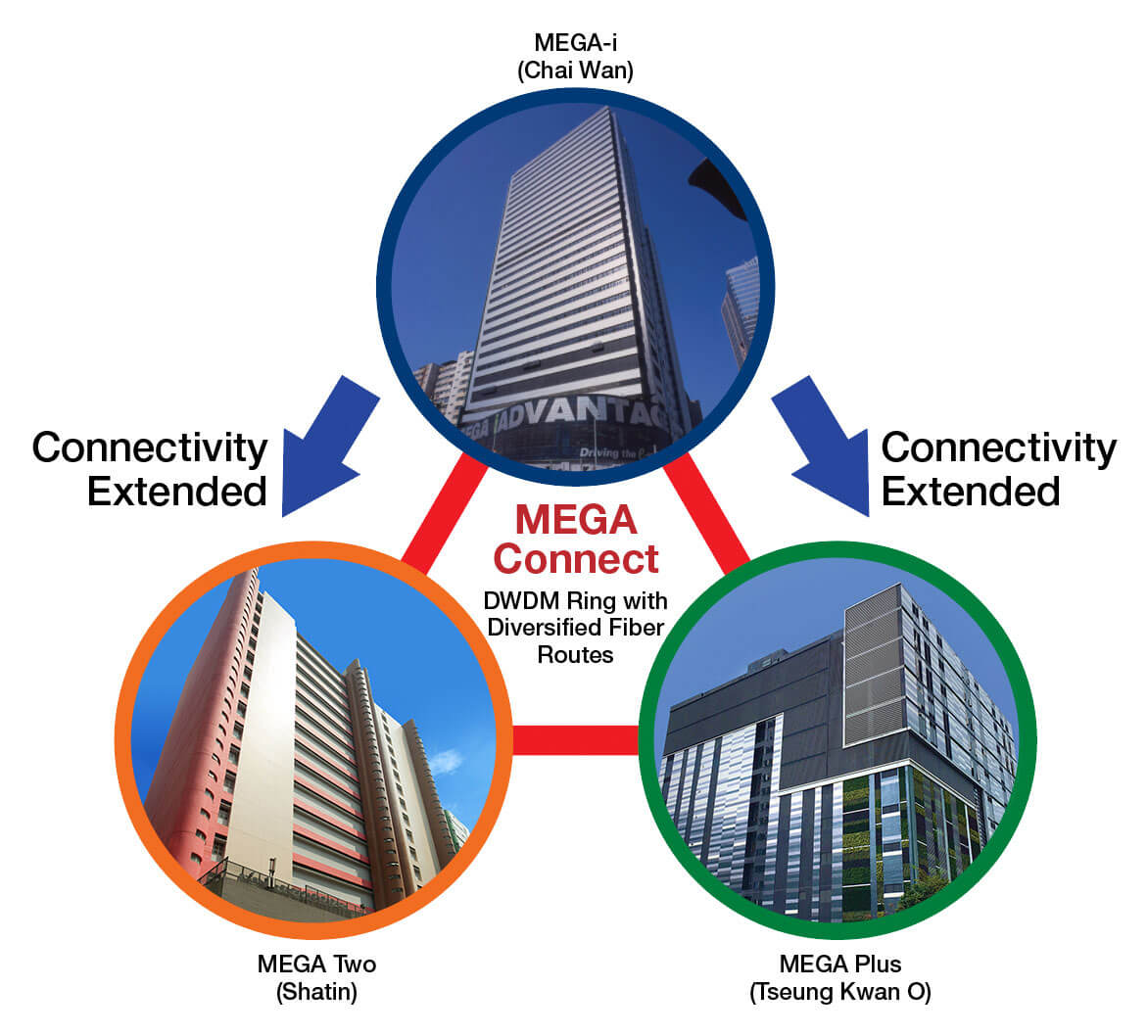 Best Connectivity
Submarine Cable POPs
Presence of All Major International and Local Carriers
Network Nodes of Carriers, ICP, ISP, CSP, and the like
Active Peering Community
Direct Cloud Connection
iAIX
Most Capacity
Constant Supply of New Capacity up to Year 2020
Cost-effective Solution for Server Farms (CDN, Compute/Storage nodes)
High Power Density
Favorable PUE
HKIX's Satellite Site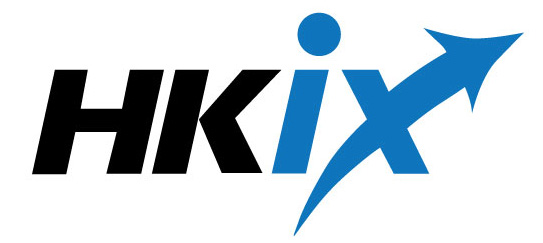 The hosting of a satellite site, named HKIX3 site of HKIX (Hong Kong Internet eXchange) in MEGA Campus through MEGA Two with its proximity to HKIX's core sites, shall serve as the most strategic and cost-effective satellite site of HKIX in town.
HKIX3 site is part of HKIX's effort to modernize the infrastructure of its popular Internet Exchange that has been serving the domestic and international Internet community since 1995. By setting up a satellite site in a network-dense environment like MEGA Campus, HKIX can scale out its Internet Exchange to cater for future growth. As a significant portion of the data traffic can be exchanged locally without having to leave these popular data centers in Hong Kong with an established ecosystem, HKIX can enjoy greater scalability while offering its participants with a more cost-effective solution.
HKIX3 site offers significant benefits to MEGA Campus customers who would like to connect to HKIX. Co-locating at a data center with a local traffic exchange means enhanced performance and a one-stop solution with greater flexibility at a lower cost. Customers within MEGA Campus can directly connect to this Satellite site of HKIX within the campus, without the need to order expensive and inflexible local loops. They can even enjoy a more resilient connection to HKIX at HKIX3 site, through its inheriting the "Ring" configuration connecting both HKIX1 site and HKIX1b site (the two core sites) simultaneously via a network along fully diversified physical fibre paths.
HKIX3 site is ready to take customer orders and will be launched in March 2017. It is available to all existing and new customers in MEGA Campus, including MEGA-i in Chai Wan and MEGA Two in Shatin.
Key Benefits of Connecting to HKIX3 Site via MEGA Campus
Connect to HKIX1 site and HKIX1b site on a fully diversified path, in a more cost-effective and flexible manner
Enjoy better network performance on the local traffic exchange within MEGA Campus data centers in Hong Kong
One-Stop-Shop (OSS) arrangement on O&M and Fault Reporting at HKIX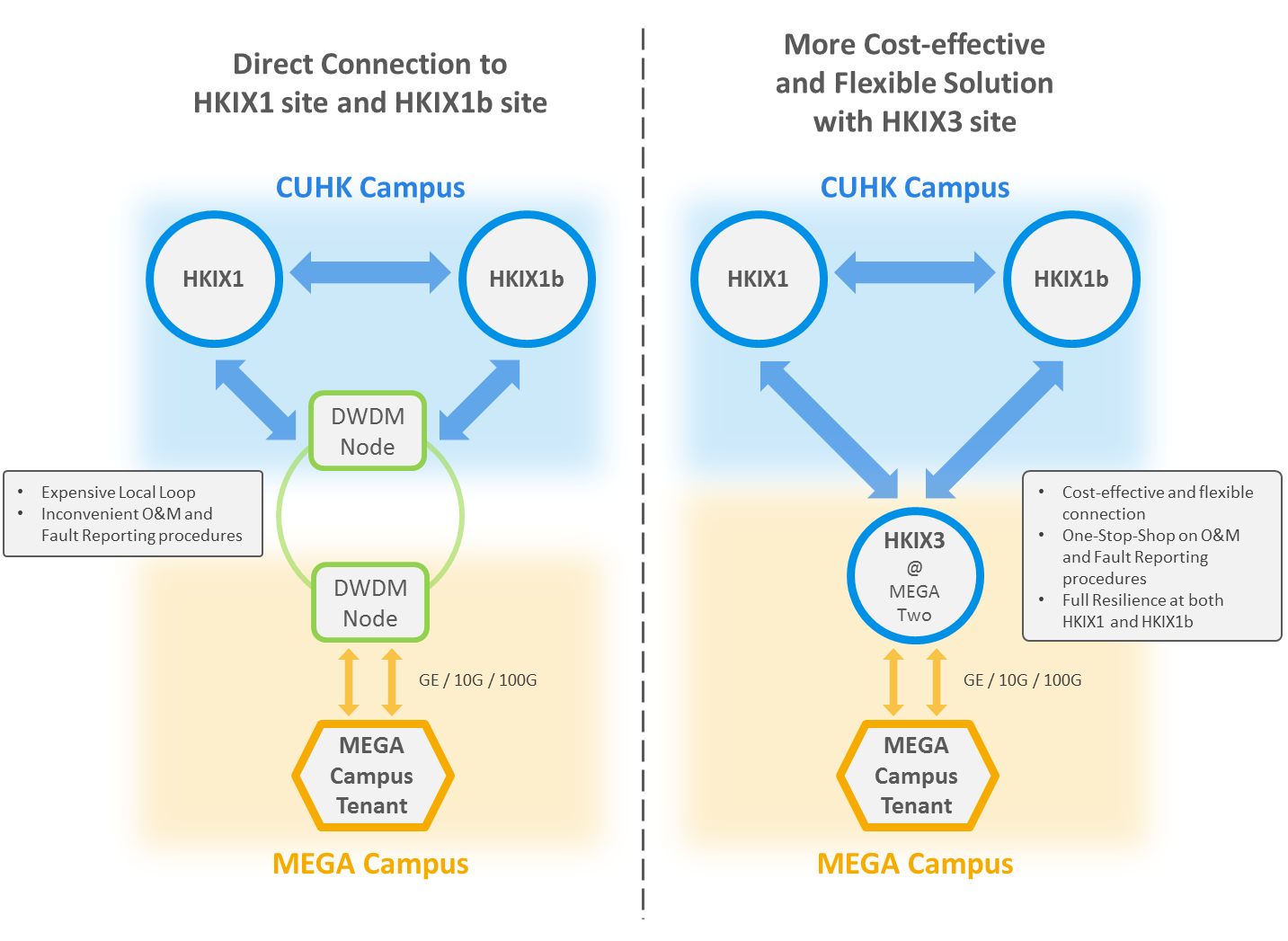 To learn more about HKIX3, download the Data Sheet now!
To enquire for connecting to the HKIX3 site, please contact This email address is being protected from spambots. You need JavaScript enabled to view it..