HKIX Connection
HKIX3b Now Live at MEGA-i
The Most Connected Data Centre in Hong Kong

Enhanced Network Performance with Two HKIX Satellite Sites on MEGA Campus
HKIX3b is the latest addition to the Hong Kong Internet eXchange (HKIX) satellite site in town directly connecting to MEGA-i, the most connected data centre in Hong Kong. Since most HKIX participants have PoPs in MEGA-i, they can now exchange traffic within MEGA-i locally and enjoy enhanced network performance.
With HKIX3b, MEGA Campus is the data centre campus in Hong Kong which houses 2 HKIX satellite sites. Along with HKIX3 at MEGA Two in Shatin enjoying proximity to HKIX's core sites HKIX1 and HKIX1b on CUHK campus, the addition of HKIX3b at MEGA-i creates unparalleled secured connections to HKIX with extra redundancy and flexibility.
Key Benefits of Connecting to HKIX3 Sites via MEGA Campus
Reduced Hop-Count
Eliminated Local Loops
Shorter Latency
Full Resilience
Enhanced Performance
Lower Cost
HKIX and Satellite Sites
HKIX is one of the largest Internet Exchange points in Asia Pacific. Operated by HKIX Limited, a wholly-owned subsidiary of the Chinese University of Hong Kong (CUHK) Foundation, the aim of HKIX is to connect Internet Service Providers (ISPs) in Hong Kong so that intra-Hong Kong traffic can be exchanged locally without any overseas routing.
The establishment of satellite sites in town is a strategic move on the part of HKIX to enhance proximity for local Internet users. By co-locating data centres and satellite sites, HKIX users can enjoy direct connection with enhanced performance and greater flexibility at lower cost.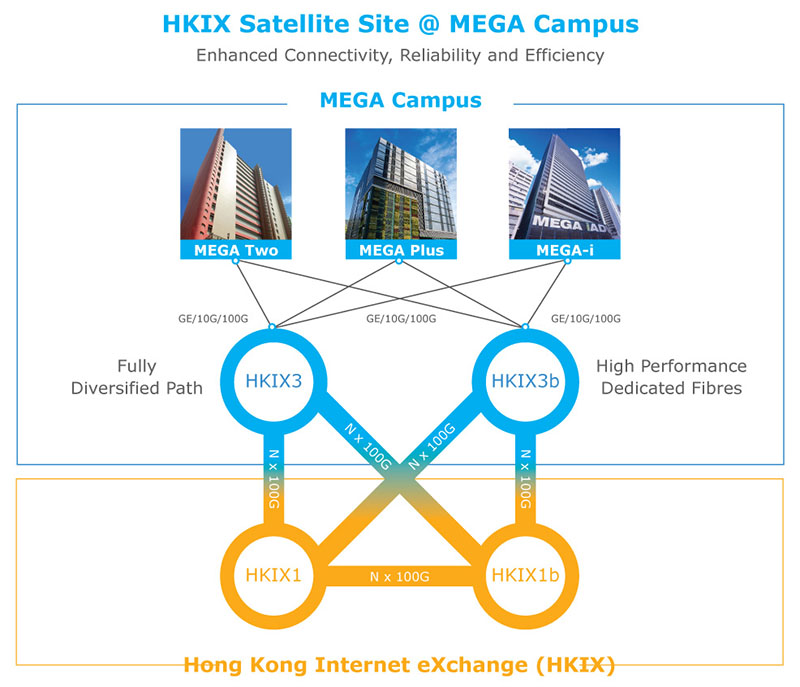 For enquiries about HKIX satellite sites on MEGA Campus, please contact This email address is being protected from spambots. You need JavaScript enabled to view it..
Download HKIX3b Data Sheet Now!